From Dear Jesus by Sarah Young
I am always before you, beckoning you on-one step at a time. Neither height nor depth, nor anything else in all creation, can separate you from My loving Presence.
Dear Jesus,
I want to live my life focused on Your Presence in the present. I believe You are always before me, leading and encouraging me, but I need to live out of that reality moment by moment. My mind tends to leap over the present moment to the next task, ignoring the one that is before me and the One who is before me. During rare times when I am able to stay focused on You, my work is infused with Your Presence. It is no longer laborious but delightful: more like play than work.
Beloved,
Living in collaboration with Me can be a foretaste of heaven. It is wonderful, though not easy: It requires a level of spiritual and mental concentration that is extremely challenging. In the Psalms, David wrote about this collaborative way of living, declaring that he had set Me always before him. As a shepherd, he had plenty of time to seek My Face and enjoy My Presence. He discovered the beauty of days lived with Me always before him-and beside him. I am training you to live this way too. This endeavor requires more persistent effort than anything else you have attempted. Yet, rather than detracting from your other activities, it fills them with vibrant Life.
Whatever you do, do it for Me-with Me, through Me, in Me. Even menial tasks glow with the Joy of My Presence when you do them for Me. Ultimately, nothing will be able to separate you from Me. So this you-and-Itogether venture can continue throughout eternity.
For I am convinced that neither death nor life, neither angels nor demons, neither the present nor the future, nor any powers, neither height nor depth, nor anything else in all creation, will be able to separate us from the love of God that is in Christ Jesus our Lord. – Romans 8:38–39
I have set the LORD always before me. Because he is at my right hand, I will not be shaken. – Psalm 16:8
And whatever you do, do it heartily, as to the Lord and not to men, knowing that from the Lord you will receive the reward of the inheritance; for you serve the Lord Christ. – Colossians 3:23-24NKJV
Order your own copy of Dear Jesus by Sarah Young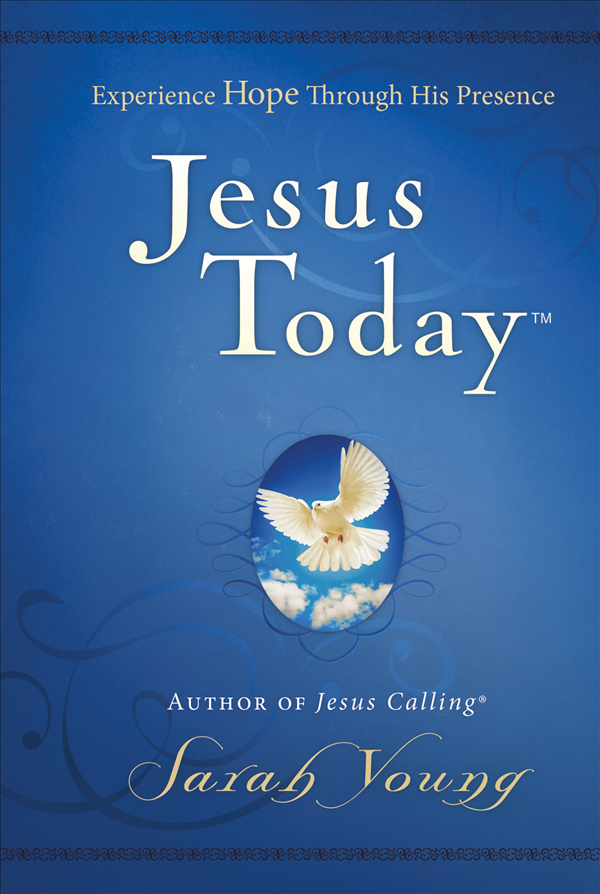 Experience Hope Through Jesus
Written in the same style as Jesus Calling®, Jesus Today™contains all-new devotions for a hope-filled walk with God. Born out of missionary Sarah Young's own trials, Jesus Today shows that hope shines brightest in adversity. Grow in grace, hear from God, and walk with Jesus Today.