From Jesus Lives, by Sarah Young
HIS PRESENCE
I will never leave you or forsake you. Many of My followers think they have to jump through all the right hoops to "stay in fellowship" with Me. If that were true, they would never be able to enjoy My Presence. They would have to be perfect to gain an audience with Me. Instead of striving to be good enough, I invite you to come confidently into My bright Presence.
If you walk in the Light as I am in the Light, My blood continually cleanses you from all sin. When you become aware of sins, I want you to confess them and seek My help in making needed changes. Nonetheless, your status with Me is not based on confessing your sins quickly enough or thoroughly enough. The only thing that keeps you right with Me is My perfect righteousness, which I gave you freely and permanently when you joined My royal family.
Walking in the Light of My Presence blesses you in many ways. Good things are better and bad things more bearable when you share them with Me. As you bask in My Love-Light, you are better able to love others and enjoy fellowship with them. You are less likely to stumble or fall, because sins are garishly obvious in My holy Light. As you walk in this Light with Me, I encourage you to exult in My righteousness. Keep your lives free from the love of money and be content with what you have, because God has said,
"Never will I leave you; never will I forsake you." – Hebrews 13:5
But if we walk in the light as He is in the light, we have fellowship with one another, and the blood of Jesus Christ His Son cleanses us from all sin. – 1 John 1:7 NKJV
Blessed are those who have learned to acclaim you, who walk in the light of your presence, O Lord. They rejoice in your name all day long; they exult in your righteousness. – Psalm 89:15–16
Order your own copy of Jesus Lives, by Sarah Young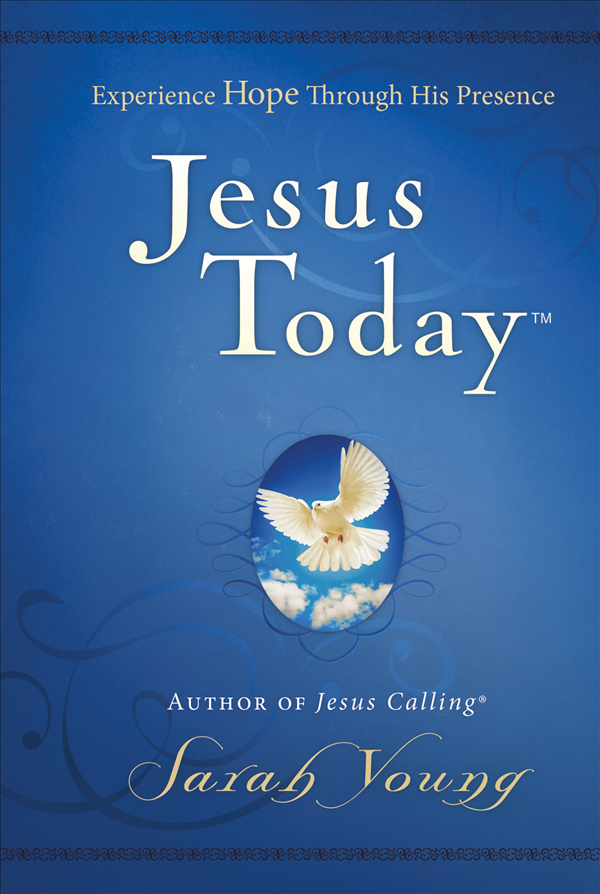 Experience Hope Through Jesus
Written in the same style as Jesus Calling®, Jesus Today™contains all-new devotions for a hope-filled walk with God. Born out of missionary Sarah Young's own trials, Jesus Today shows that hope shines brightest in adversity. Grow in grace, hear from God, and walk with Jesus Today.