From Jesus Today by Sarah Young
Rejoice in Me always. Let your gentleness be evident to all. I am near. Rejoicing in Me can protect you from the temptation to complain. When your circumstances are stressful, it is easy for you to become irritable. But I want you to demonstrate gentleness—not irritability. This is possible to the extent that you find Joy in Me. Since I am the same yesterday, today, and forever, there is always much for you to rejoice about.
You can be joyful in the knowledge that I am near. When a man and a woman are deeply in love, they often bring out the best in each other. Just being near the beloved can soothe irritations and increase happiness. I am the Lover who is always nearby—unseen yet tenderly present. I can soothe your frustrations and fill you with Joy as you tune in to My loving Presence. One way to do this is to thank Me for My continual Presence and My constant Love.When circumstances are getting you down, turn your attention to Me and consider the great Love I have for you. Rejoice!
Rejoice in the Lord always. I will say it again: Rejoice! Let your gentleness be evident to all. The Lord is near. —Philippians 4:4–5
The fruit of the Spirit is love, joy, peace, patience, kindness, goodness, faithfulness, gentleness, self-control; against such things there is no law. —Galatians 5:22–23 ESV
Jesus Christ is the same yesterday, today, and forever. —Hebrews 13:8 NKJV
Whoever is wise, let him heed these things and consider the great love of the Lord. —Psalm 107:43
Order your own copy of Jesus Today by Sarah Young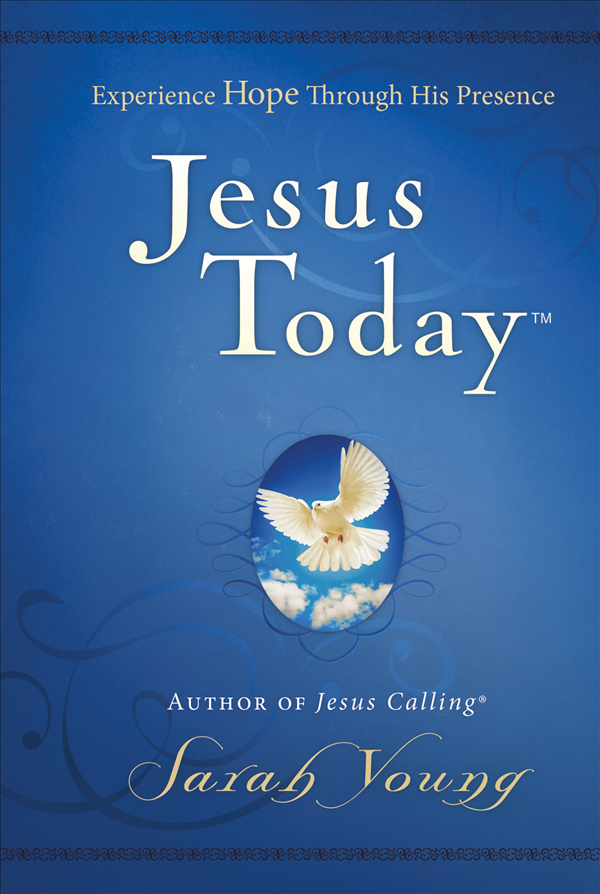 Experience Hope Through Jesus
Written in the same style as Jesus Calling®, Jesus Today™contains all-new devotions for a hope-filled walk with God. Born out of missionary Sarah Young's own trials, Jesus Today shows that hope shines brightest in adversity. Grow in grace, hear from God, and walk with Jesus Today.