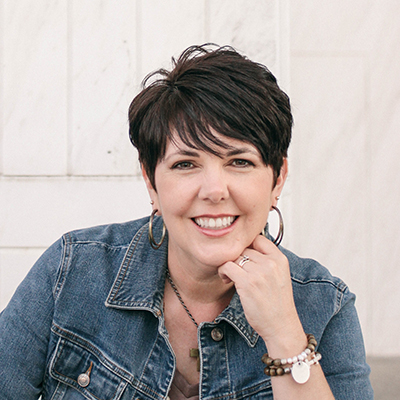 February 21, 2020
When I Have Zero Time to Spare
AMY CARROLL
Listen to this devotion
"Did you not know that I must be about My Father's business?" Luke 2:49b (NKJV)
My heart sank as I read my friend's text. Although I wanted to grant her request for more time together, I knew I couldn't.
It's not that I don't like her. I delight in her company.
I have tidbits of margin. But those rare spots have been reserved for my growing family.
But I knew scheduling another coffee date would pull me away from my mission - the tasks and relationships God has already given me. Saying "yes" would be unhealthy for me, but saying "no" felt hurtful. It was a painful dilemma.
Knowing others might advise me that it was time to set a boundary, I wondered: Are boundaries biblical?
I realized Jesus modeled a solution for my confusion in Luke 2:41‒51, a fascinating glimpse into Jesus' understanding of His mission. The story sheds a bright light on how to approach our own boundaries when they conflict with the needs, wants and preferences of others.
Jesus shows us the way when expectations and relationships get sticky.
Let's recap this segment of Jesus' life: The Holy Family - Joseph, Mary and Jesus - have a holy habit. Every year, they follow God's law and trek to Jerusalem to celebrate Passover.
In a Bible story that sounds a lot like a pop culture movie plot, Mary and Joseph were a full day's journey along the road home following the celebration when they realized their 12-year-old son wasn't with them.
Mary and Joseph were alarmed when they discovered Jesus was missing. Scripture tells us they turned right around, returned to Jerusalem and searched for Him for three full days.
Three days of looking means the Temple, where they ultimately found Him, wasn't Mary and Joseph's starting point. Scripture doesn't tell us where they looked, but "high and low" probably sums it up. Maybe like the rest of Jewish culture, they expected to find Jesus, the Messiah, near the palace, consulting with rulers, rather than in the Temple courts, sitting with religious leaders.
If they had truly understood Jesus' purpose, they would have searched the Temple first.
Jesus' parents were evidently a little fuzzy about His mission, but He wasn't confused at all. He was clear and compelled by it. "Why did you seek Me? Did you not know that I must be about My Father's business?" (Luke 2:49b)
"About My Father's business ..." Now that's a clarifying idea. What does it mean to be about our Father's business, and how would purposefully finding our Father's moment-by-moment direction make our lives different?
Later in His ministry, Jesus explained His mission mindset this way: "... I do nothing on my own but speak just what the Father has taught me. The one who sent me is with me; he has not left me alone, for I always do what pleases him" (John 8:28b-29 NIV). In other words, Jesus only spoke what His Father told Him to speak. He only did what His Father told Him to do. Jesus cared immeasurably for others, but His Father's directions superseded everything else.
Being about our Father's business means we say the words our Father is telling us to say and not one word more. (Can a chatty girl just insert a "MERCY!" right here?) We do the things our Father is telling us to do and not one iota more. God's directions become our boundaries.
After working through Jesus' example, I sent a carefully crafted text to my friend designed to explain both my love and my limits. When I described why I couldn't get together, she understood and sent a gracious response.
Honestly, it won't always happen that way, but we can trust God that both our lives and our people will benefit when we are "about our Father's business." His boundaries for us are best.
Lord, my life has become cluttered with expectations and scheduling that aren't my Father's business. Because I haven't used biblical boundaries, I'm too swamped to be who You want me to be or do what You want me to do. Help me to seek You first about my commitments. In Jesus' Name, Amen.
TRUTH FOR TODAY:
Proverbs 19:21, "There are many plans in a man's heart, Nevertheless the LORD's counsel - that will stand." (NKJV)
RELATED RESOURCES:
If boundaries have been difficult for you, Amy Carroll's book, Exhale, teaches you a process that will help you set limits in love. Pick up a copy today.
CONNECT:
Visit Amy's blog today to receive a free download of a prayer for biblical boundaries that will transform your life. You'll also receive information about her online Exhale book study that begins March 2!
REFLECT AND RESPOND:
When was a time you know you didn't live "about your Father's business"? What was the effect on your life?
How could you lovingly set a boundary next time? Let us know your ideas here in the comments section.
© 2020 by Amy Carroll. All rights reserved.
Proverbs 31 Ministries
630 Team Rd., Suite 100sdfsdfd
Matthews, NC 28105
www.Proverbs31.org