From Dear Jesus by Sarah Young
I long for you to trust Me enough to be fully yourself with Me. When you are real with Me, I am able to bring out the best in you: the very gifts I have planted in your soul.
Dear Jesus,
Being real with You can be quite painful, because first I have to be real with myself. It's often easier to ignore how I'm feeling than to face my misery head-on. When I'm feeling bad about myself, I would rather numb my feelings than bring them to You. Give me the courage to face myself, so I can be real with You.
Beloved,
The best way to face yourself is to remember you are constantly clothed in My robe of righteousness. I have no illusions about what lies beneath that pristine garment of salvation. Nonetheless, I take great delight in you; I even rejoice over you with singing. Open yourself up to My unfailing Love. Talk with Me about whatever is bothering you. Experience your pain in the Light of My loving Presence. In that brilliant Light you can see your misery more clearly, but do not despair. Continue looking at your woeful condition, while resting in the assurance of My Love. What you most feared to expose is no match for the Power of My radiant Presence. Entrust yourself into My capable care, asking Me to transform you according to My plans for you. Collaborate with Me as I work on growing the gifts I planted in your soul.
I delight greatly in the LORD; my soul rejoices in my God. For he has clothed me with garments of salvation and arrayed me in a robe of righteousness, as a bridegroom adorns his head like a priest, and as a bride adorns herself with her jewels. – Isaiah 61:10
The LORD your God is with you, he is mighty to save. He will take great delight in you, he will quiet you with his love, he will rejoice over you with singing. – Zephaniah 3:17
But I trust in your unfailing love; my heart rejoices in your salvation. I will sing to the LORD, for he has been good to me. – Psalm 13:5–6
Order your own copy of Dear Jesus by Sarah Young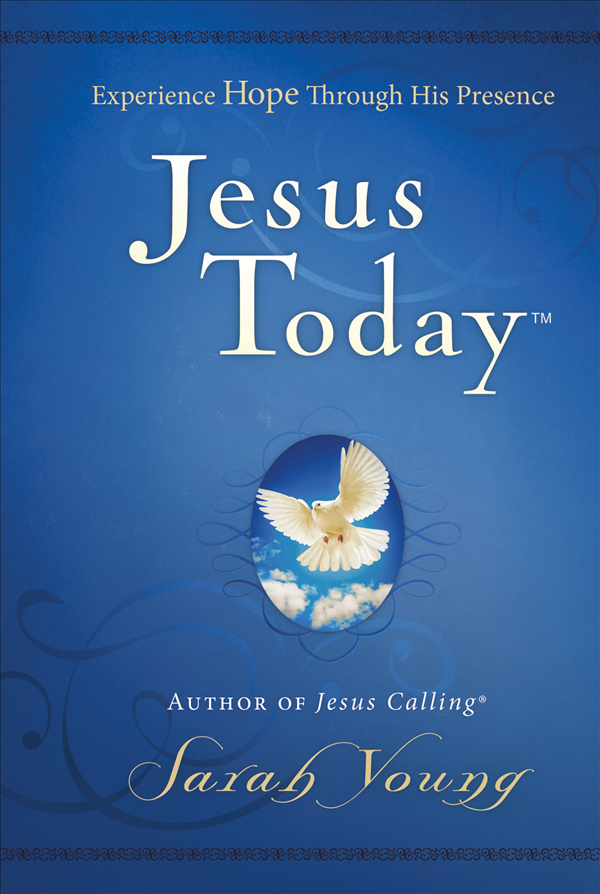 Experience Hope Through Jesus
Written in the same style as Jesus Calling®, Jesus Today™contains all-new devotions for a hope-filled walk with God. Born out of missionary Sarah Young's own trials, Jesus Today shows that hope shines brightest in adversity. Grow in grace, hear from God, and walk with Jesus Today.