From Dear Jesus, by Sarah Young
Entrust your loved ones to Me. Release them into My protective care. They are much safer with Me than in your clinging hands.
Dear Jesus,
I think I sometimes confuse loving others with rescuing them. When a loved one has a problem, I often feel responsible to come up with a solution. I plunge headlong into problem-solving mode, as if I'm obligated to provide sound advice. Please help me stop feeling responsible to fix people, since that is Your role—not mine.
Beloved, it is indeed My prerogative to bring about change in people's lives, as I choose to do so. You can be part of the process, but remember that I am the Author and Director of the drama: You need to follow My script, rather than creating your own. Do not usurp My role in people's lives, no matter how much you long to help them.
When you feel compelled to rescue a loved one, take a good look at the quality of your love. Learn from Me, because I have all authority in heaven and on earth: I could rescue or control anyone at will. Yet I intentionally created people with the capacity to choose good or evil. I wanted them to be free to love Me—or not. Love that has no choice is not real!
Subordinate your deficient, controlling love to My perfect, empowering Love. Prayerfully release your loved ones to Me. Restrain your urges to solve their problems. Instead, use your time and energy to listen to them and pray for them. Trust in My Love and My unsearchable wisdom. I can work changes in your loved ones' lives: beyond anything you might ask or imagine. As you release these precious ones to Me, linger a while in My unfailing Love—for them and also for you.
Then Jesus came to them and said, "All authority in heaven and on earth has been given to me." – Matthew 28:18
Now to him who is able to do immeasurably more than all we ask or imagine, according to his power that is at work within us, to him be glory in the church and in Christ Jesus throughout all generations for ever and ever! Amen. – Ephesians 3:20–21
Let the morning bring me word of your unfailing love, for I have put my trust in you. Show me the way I should go, for to you I lift up my soul. – Psalm 143:8
Order your own copy of Dear Jesus, by Sarah Young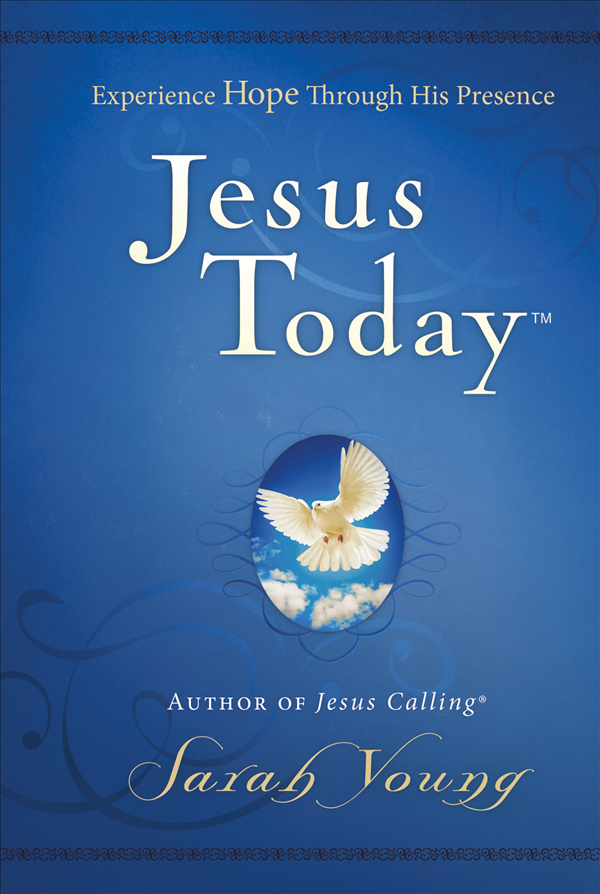 Experience Hope Through Jesus
Written in the same style as Jesus Calling®, Jesus Today™contains all-new devotions for a hope-filled walk with God. Born out of missionary Sarah Young's own trials, Jesus Today shows that hope shines brightest in adversity. Grow in grace, hear from God, and walk with Jesus Today.