From Dear Jesus by Sarah Young
Nothing is wasted when it is shared with Me. I can bring beauty out of the ashes of lost dreams. I can glean Joy out of sorrow, Peace out of adversity. Only a Friend who is also the King of kings could accomplish this divine alchemy.
Dear Jesus,
I am so blessed to have a Friend like you! I want to learn how to share more and more of my life with You. I believe You are capable of bringing beauty out of my lost dreams, Joy out of my sorrow, Peace out of my problems. However, I confess that often I get stuck in my brokenness and struggles. Help me bring all these things to You for transformation.
Beloved, you have made a request that pleases Me greatly. I delight in transforming My precious children. Give Me your broken dreams. Release them into My care and keeping. I will not only heal the brokenness, I will give you a new dream—one that is in harmony with My plans for you. As you seek to actualize this fresh dream, you will find yourself becoming more content and increasingly aware of My beautiful Presence.
Bring to Me also your sadness and your problems. Sorrow shared with Me is permeated with brilliant sparkles of Joy—like numerous Christmas lights glittering in the darkness. Accept adversity as My gift to you: Search for golden pockets of peace hidden in the stony hardness of your problems.
I am your devoted Friend and also your King of kings, accomplishing My divine transformation in you. All things are possible with Me!
He has sent Me to bind up the brokenhearted…and provide for those who grieve in Zion—to bestow on them a crown of beauty instead of ashes, the oil of gladness instead of mourning, and a garment of praise instead of a spirit of despair. They will be called oaks of righteousness, a planting of the LORD for the display of his splendor. – Isaiah 61:1–3
Peace I leave with you; my peace I give you. I do not give to you as the world gives. Do not let your hearts be troubled and do not be afraid. – John 14:27
Jesus looked at them and said, "With man this is impossible, but with God all things are possible." – Matthew 19:26
Order your own copy of Dear Jesus by Sarah Young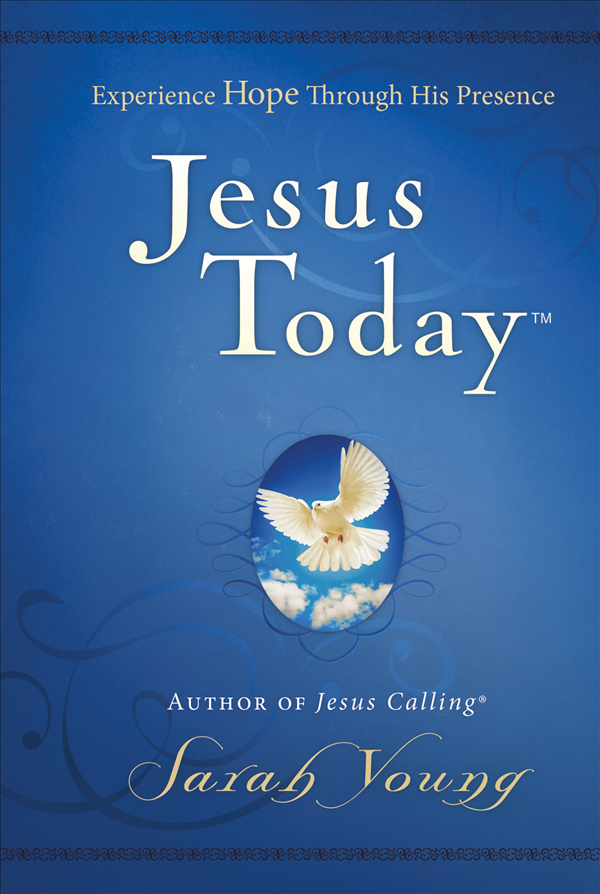 Experience Hope Through Jesus
Written in the same style as Jesus Calling®, Jesus Today™contains all-new devotions for a hope-filled walk with God. Born out of missionary Sarah Young's own trials, Jesus Today shows that hope shines brightest in adversity. Grow in grace, hear from God, and walk with Jesus Today.