From Jesus TodayTM by Sarah Young
Learn to live from a place of resting in Me. Since I—the Prince of Peace—am both with and within you, you can choose to live from this peaceful place of union with Me. This enables you to stay calm in the midst of stressful situations, by re-centering yourself in Me. We can deal with your problems together—you and I—so there is no need to panic. However, the more difficult your circumstances, the more tempting it is for you to shift into high gear and forget My peaceful Presence.
As soon as you realize you have wandered from your place of Peace, return to Me immediately. Call upon My Name, for this reconnects you with Me and helps you feel safe. Don't be discouraged by how often you wander from Me. You are endeavoring to form a new habit, and this takes time plus persistent effort. The rewards, though, are well worth your efforts. The more you return to Me—to our resting place—the more peaceful and joyful your life will be.
For to us a child is born, to us a son is given, and the government will be on his shoulders. And he will be called Wonderful Counselor, Mighty God, Everlasting Father, Prince of Peace.
—Isaiah 9:6
I can do all things through Christ who strengthens me.
—Philippians 4:13 NKJV
The name of the Lord is a strong tower; the righteous run to it and are safe.
—Proverbs 18:10 NKJV
©Jesus Today 2012 by Sarah Young
Order your own copy of Jesus TodayTM by Sarah Young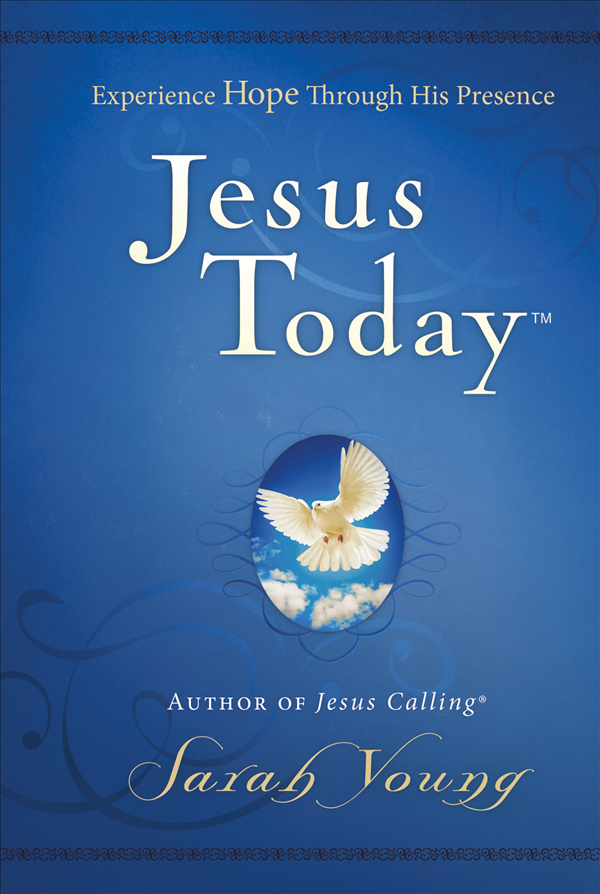 Experience Hope Through Jesus
Written in the same style as Jesus Calling®, Jesus Today™contains all-new devotions for a hope-filled walk with God. Born out of missionary Sarah Young's own trials, Jesus Today shows that hope shines brightest in adversity. Grow in grace, hear from God, and walk with Jesus Today.