From A Jane Austen Devotional
Meek and Gentle Spirit
In the evening, as Marianne was discovered to be musical, she was invited to play [the pianoforte]. The instrument was unlocked, everybody prepared to be charmed, and Marianne, who sang very well, at their request, went through the chief of the songs which Lady Middleton had brought into the family on her marriage, and which perhaps had lain ever since in the same position on the pianoforte, for her ladyship had celebrated that event by giving up music. . . .
Marianne's performance was highly applauded. Sir John was loud in his admiration at the end of every song, and as loud in his conversation with the others while every song lasted. Lady Middleton frequently called him to order, wondered how any one's attention could be diverted from music for a moment, and asked Marianne to sing a particular song which Marianne had just finished.
Colonel Brandon alone, of all the party, heard her without being in raptures. He paid her only the compliment of attention, and she felt a respect for him on the occasion, which the other had reasonably forfeited by their shameless want of taste. His pleasure in music, though it amounted not to that ecstatic delight which alone could sympathize with her own, was estimable when contrasted against the horrible insensibility of the others; and she was reasonable enough to allow that a man of five and thirty might well have outlived all acuteness of feeling and every exquisite power of enjoyment. She was perfectly disposed to make every allowance for the colonel's advanced state of life which humanity required.
—From Sense and Sensibility
Sometimes it is only through comparison that we recognize the virtues of a quiet and gentle spirit. Such is the case in this scene, where Colonel Brandon, an "old bachelor . . . on the wrong side of five and thirty," fails to make a strong impression upon the emotionally unrestrained Marianne.
Until she begins to play the pianoforte. At once, the colonel's quiet nature is elevated through the benefit of contrast. Perhaps it is his absence of overwrought dramatic expression, as exemplified by Sir John; more likely, the lack of Lady Middleton's self-aggrandizement or Mrs. Jennings's bawdy expressions. Maybe it is the simple compliment of gentlemanly attention.
Whatever the case, Marianne sees that the colonel's reserved nature sets him apart from the other partygoers. He expresses exactly what he feels, rendering his compliments precious. This Marianne recognizes—perhaps for the first time—as a mark of good taste.
For Christians today, this simple example provides context for the virtues of Spirit-filled living. A gentle and quiet spirit, like Colonel Brandon's, pleases the Lord. Romans 8:14 tells us, "For as many are led by the Spirit of God, these are sons of God" (nkjv). An attention-getting, self-serving person is hardly an example of God centered living; yet everywhere we look we see individuals clawing their way toward and striving endlessly for attention.
Let your personal manner of expression be a reflection of Christ-centered living, and the things that capture your attention reveal wisdom and tastefulness. The way to ensure this mode of living is to seek your security and your example in Christ.
"Take My yoke upon you and learn from Me, for I am gentle and humble in heart, and you will find rest for your souls." – Matthew 11:29 NASB
Order your own copy of A Jane Austen Devotional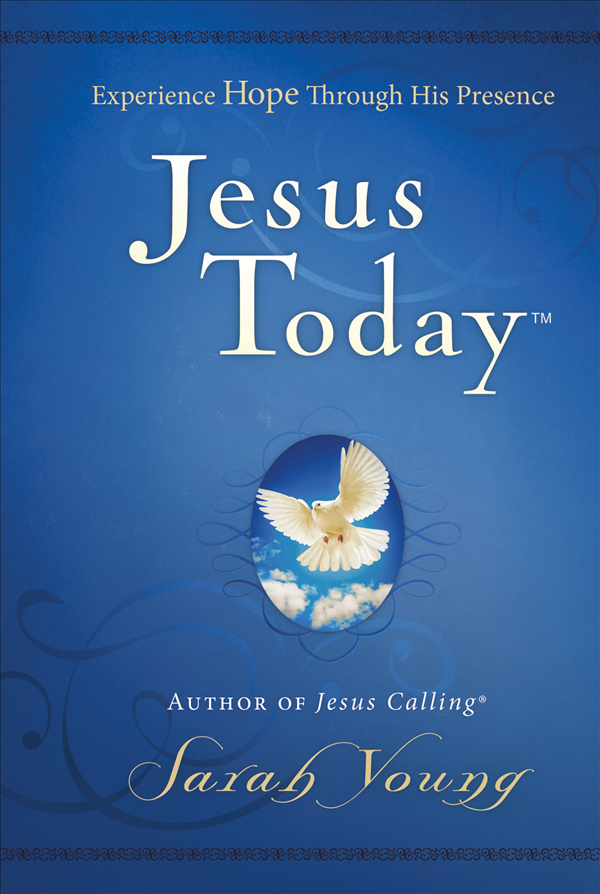 Experience Hope Through Jesus
Written in the same style as Jesus Calling®, Jesus Today™contains all-new devotions for a hope-filled walk with God. Born out of missionary Sarah Young's own trials, Jesus Today shows that hope shines brightest in adversity. Grow in grace, hear from God, and walk with Jesus Today.