"God is not unjust; he will not forget your work and the love you have shown him as you have helped his people and continue to help them." Hebrews 6:10 (NIV)
I might get in trouble? Hmmm ...
As a teenager, if an opportunity for fun also brought the possibility of getting in trouble, my mind immediately went to the worst-case scenario.
A party with alcohol? What if someone called the police? Making out with a guy? What if we got caught? Some thought my straight-and-narrow living simply came from my title as a Christian. Honestly, fear of God had much more to do with it. Sometimes, my tender conscience drove me crazy, but I was just plain afraid to go against God.
In Exodus 1, when Pharaoh's attempt to stifle the Hebrews' prosperity through slave labor failed, he moved to Plan B: directing the midwives to kill every newborn Hebrew male. When that didn't work, Pharaoh summoned the midwives, Shiphrah and Puah, to his throne. They had not been following the command to kill the Hebrew boys as they were born, and now they were being called to account for their actions.
Shiphrah and Puah had every reason to be terrified when they received the command to come to Pharaoh's throne. Knowing what their worst-case scenario would be, they still did not allow the situation to paralyze them.
Yes, they were awestruck but not by the powerful intimidation of Pharaoh. Their fear, directed toward the majesty of their God, equipped them with the courage to let the males live, and that courage would not fail them when they faced accounting for their actions.
Pharaoh's pressure had an effect for sure, but it was the opposite of what he intended. His command birthed a faith stronger than the women's fear of his earthly power. Shiphrah and Puah's faith in God compelled them toward courage. The God of Abraham, Isaac and Jacob, who brought the Israelites safely to Egypt in the famine, would not quit His plan to make Israel a great nation.
Shiphrah and Puah chose to fear God over fearing Pharaoh. Do it scared became their motto. God would come through just as Hebrews 6:10 (written many centuries later) says: "God is not unjust; he will not forget your work and the love you have shown him as you have helped his people and continue to help them."
The Hebrew midwives chose to be courageous - not because they were fearless. They chose to be brave because their love for God was stronger than their fear of a human. God's love for them empowered them and helped them move forward.
As my relationship with the Lord developed and my love for Him deepened, my desire to please Him changed from a negative dread of getting in trouble to a healthy fear. That's what love does: It pushes out fear and develops Christ-confidence in us.
Like the faith of the midwives, this mighty tree of confidence that God desires to grow in us can withstand winds and storms because of its depth. It is not standing on ground that moves like the sand when the tide comes in and out. The reason we make the choices we make is because we never want to offend this One who loves us so very much.
Instead, we want to return deep love with deep love. And the absolutely beautiful thing is, when this healthy fear of God grows, it develops into a passion for Him that can stand firm against anything ... even the threat of a king.
Father God, drive unhealthy fear from me with Your love for me and my love for You. In Jesus' Name, Amen.
TRUTH FOR TODAY:
1 John 4:18, "There is no fear in love. But perfect love drives out fear, because fear has to do with punishment. The one who fears is not made perfect in love." (NIV)
Proverbs 3:26, "For the LORD will be your confidence and will keep your foot from being caught." (ESV)
RELATED RESOURCES:
If you desire a confidence that can withstand the winds and storms of this life, order Lynn Cowell's Bible study, Make Your Move: Finding Unshakable Confidence Despite Your Fears and Failures. Click here to pick up a copy today.
Is technology bringing your family together ... or drawing you apart? Help take back your home from the chains of screen time with Growing Up Social by Arlene Pellicane. Learn how to disconnect and spend quality time with your family, establish healthy boundaries with screens, and equip your children to be relational. When you give to Proverbs 31, you'll receive the Growing Up Social audiobook! [GET GROWING UP SOCIAL TODAY.]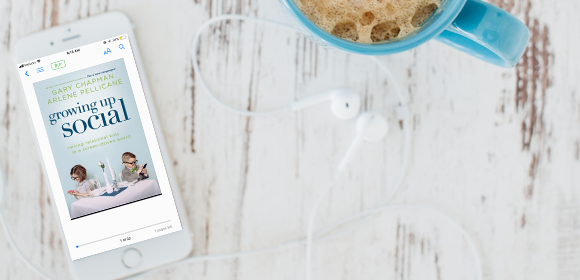 CONNECT:
For a chance to win a set of books for building this type of confidence - for young girls and for women - head to Lynn's Instagram account for details.
REFLECT AND RESPOND:
Up to this point in your relationship with God, what have you understood "the fear of the Lord" to mean? What would you do if you decided to just "do it scared" ...? Share your thoughts with us in the comments!
Pray for the Lord to develop His confidence and courage in your life. Bravely ask Him to put you in situations that require you to be courageous for Him, then be on the lookout for an opportunity today.
© 2019 by Lynn Cowell. All rights reserved.
Proverbs 31 Ministries
630 Team Rd., Suite 100
Matthews, NC 28105
www.Proverbs31.org