From Jesus Today by Sarah Young
Come to Me when you are hurting. Voice your trust in Me, and seek to become aware of My Love all around you. Breathe in the Peace of My Presence: Peace that transcends understanding. Take time with Me.
To experience the Joy of My Presence, you need to sit quietly, focusing your thoughts on
Me. Say no to plans and problems as they try to creep into your mind. Say yes to Me—to My Joy and Peace, My unfailing Love. Living close to Me is all about transcendence. The world is full of trouble, but I have overcome the world! I call you to transcend your troubles by looking up to Me. Assert your confidence in Me, saying, "I trust You, Jesus. You are my Hope." Short prayers such as these—voiced almost continuously—will help you live transcendently: seated with Me in heavenly realms. I am training you to be an overcomer—unfettered by circumstances.
Do not be anxious about anything, but in everything, by prayer and petition, with thanksgiving, present your requests to God. And the peace of God, which transcends all understanding, will guard your hearts and your minds in Christ Jesus. —Philippians 4:6–7
"These things I have spoken to you, that in Me you may have peace. In the world you will have tribulation; but be of good cheer, I have overcome the world." —John 16:33 NKJV
God raised us up with Christ and seated us with him in the heavenly realms in Christ Jesus. -Ephesians 2:6
Order your own copy of Jesus Today by Sarah Young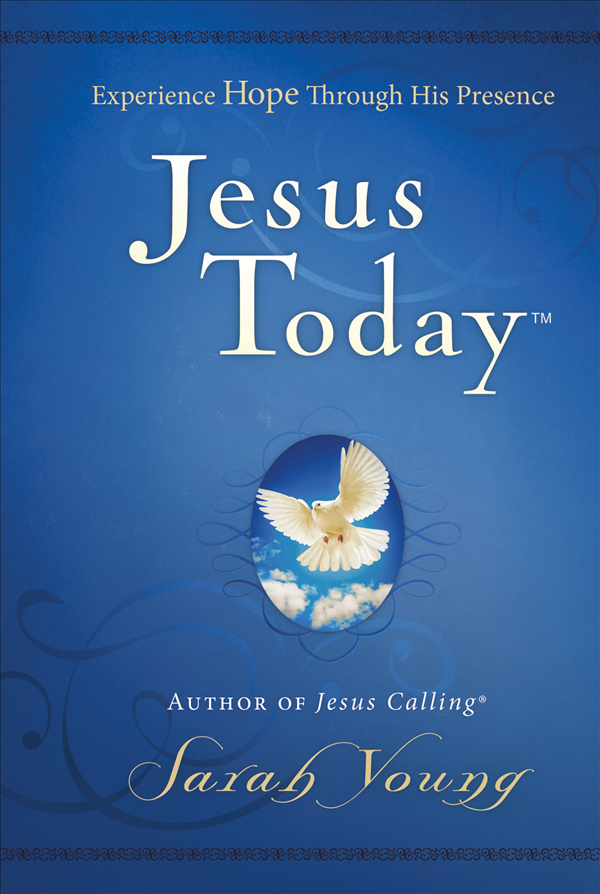 Experience Hope Through Jesus
Written in the same style as Jesus Calling®, Jesus Today™contains all-new devotions for a hope-filled walk with God. Born out of missionary Sarah Young's own trials, Jesus Today shows that hope shines brightest in adversity. Grow in grace, hear from God, and walk with Jesus Today.