From Jesus TodayTM by Sarah Young
I am the Foundation and Focus of your life. I am a firm Foundation: one that will not be shaken. Before you knew Me as Savior, you had nothing to build your life upon. Every time you tried to create something meaningful, it would eventually collapse—like a house of cards. Without Me, everything is ultimately "Meaningless! Meaningless!" Ever since I became your Savior, you have been building on the Rock of My Presence. Some of the things you've worked on have flourished and others have not, but you always have a firm place to stand—on the foundation I've provided for you.
The key to steadiness in your life is to set Me always before you. When you make Meyour Focus, you can walk steadily along yourlife-path. Many distractions will vie for yourattention along the way, but I am the Guidewho is continually before you. So keep lookingahead to Me. See Me beckoning you on—stepby step by step—all the way to heaven.
"Meaningless! Meaningless!" says the Teacher. "Utterly meaningless! Everything is meaningless!"
—Ecclesiastes 1:2
The Lord lives! Blessed be my Rock! Let God be exalted, the Rock of my salvation!
—2 Samuel 22:47 NKJV
He lifted me out of the slimy pit, out of the mud and mire; he set my feet on a rock and gave me a firm place to stand.
—Psalm 40:2
I have set the Lord always before me. Because he is at my right hand, I will not be shaken.
—Psalm 16:8
©Jesus Today 2012 by Sarah Young
Order your own copy of Jesus TodayTM by Sarah Young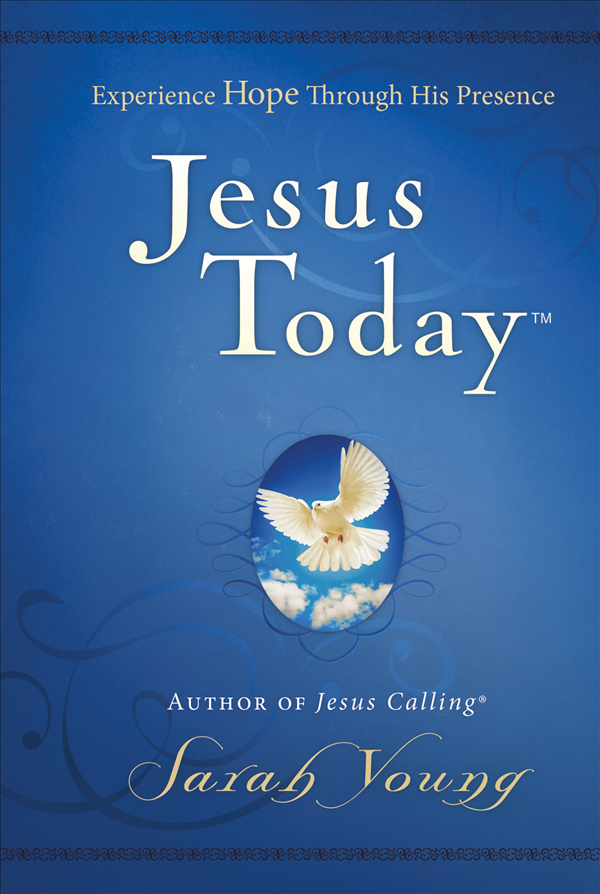 Experience Hope Through Jesus
Written in the same style as Jesus Calling®, Jesus Today™contains all-new devotions for a hope-filled walk with God. Born out of missionary Sarah Young's own trials, Jesus Today shows that hope shines brightest in adversity. Grow in grace, hear from God, and walk with Jesus Today.